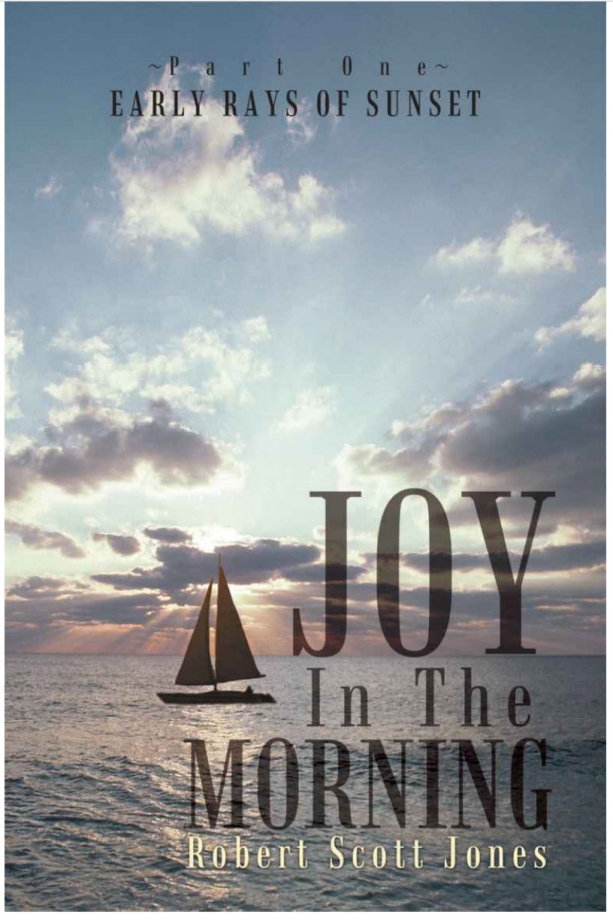 "When I was growing up, Mount Pleasant was about gritty sawmills and grinding, blinding fields. It was really two strange worlds in one dusty, deep-South, strictly segregated town. White people lived on one side of the tracks with privileges of hope attached to them at birth. Black people lived on the other--where every day they breathed a heavy air of hopelessness and helplessness so thick that it seemed to poison every notion of ever doing better. Like hardship and poverty were an inescapable destiny. They were a hundred light-years past poor. You know, so poor that you could dip poverty and misery with a long handle spoon on Christmas morning. There were no paved streets on the black side of Mount Pleasant. Just a dirt road to nowhere." (Joy in the Morning, p.10)

Joy in the Morning, Part One: Early Rays of Sunset, chronicles the life of the main character, Daniel Howard, which begins with his birth in New Orleans in 1902. The family motto is, "work, save, educate." His father is a prominent Methodist preacher from a successful and influential Creole family -"the Howards." His mother operates a no-name school for children who cannot attend regular school during the day. His paternal grandmother, Grandma Howard, chiefly commands the Howard family business interests. She is extremely color conscious, preferring the lighter hue and Creole heritage.
In his pre-teen years, Daniel Howard is often in trouble for being sighted on Bourbon or Basin Streets tap dancing and yearning to play the piano in the blues clubs and juke joints. Through his lens the reader is introduced to his view of New Orleans to include, the lively scenes in the French Quarters; Mardi Gras; Voodoo; Congo Square; and, life in a vibrant port city among many other experiences.

His maternal grandmother, "Nana", heads the maternal side of his family. Nana is a widow and illiterate and resides in a tin roofed former slave cabin outside of New Orleans. She is an extremely religious woman and ekes out a meager living as a maid. She is also the local midwife, and tends to the sick with herb potions. She still grieves that her seventeen year old son, Lester, was dragged from her cabin one dark night and lynched.

After graduating from college, he is recruited to teach in a small, impoverished and racially segregated town in the Mississippi Delta where despite his hopes and desire to make a difference, hardships and humiliations await him and his new bride, Miss Emma.

The reader meets Daniel Howard on his dying bed as the result of a deteriorating heart condition. He is in his final days. His sisters, Sara and Naomi have come to care for him. They spend an afternoon on his porch recounting their recollections of his life. He listens to them through his open bedroom window. As they tell their version of his life's story, he begins to quietly recall his life and slide from prominence to tragedy to include dire and dangerous personal experiences of which his sisters and family have no knowledge.
"Out there with the flowerpots and the hanging lilac baskets, my sisters dutifully drop unsuspecting houseflies with their Louisiana fly swats; they trade their notes on me--my life and who they think I am. With a bluesy rhythm, they sway in the old porch swing, gently rocking through a field of memories. With colorful sail, their voices ride the salty breeze and through my window drift broken bits and pieces of my life as tenderly woven by my sisters. Sara, who would never miss a stitch in one of her cozy quilts, and dear Naomi, who can recall with amazing detail our every childhood misadventure, really do not know, cannot really know, where time and travels in the deep south and shallow tides have taken me..." (Joy in the Morning, p.3)
Filled with unforgettable memories, different adventures and various experiences that share life lessons, this book brings inspiration and hope to those who enjoy stories of ultimate triumph despite conflicts and tragedies.
---
Joy In the Morning - Excerpt from Chapter 9
Oh, Heaven!
Just listen to my sisters out there troubling the postman, my friend Phil Richardson about my condition. His father, Roosevelt "Rooster" Richardson was my iceman. He would come rumbling down the street in that old ice truck shouting, "I got ice! I got ice! Ice colder than your wife." Leave Phil be! He's the mailman not the Coroner. Some old lady down the way is waiting for her "gov'ment" check while they got him out there listening to their dressed up chatter about me. That old lady got to get her spoiled pussycat some dry-catty vittles.
Just listen to them! They tell factual and imaginary bits and pieces of my life, they've artfully composed, with trumpet fanfare, violins, polished flutes, square triangles, and concert harps. But my story, the truth is about the moaning tenor sax, down-home blues, jive, blue grass, French horn, bongo, steel drums, tambourine, harmonica, eighty-eights, crashing cymbals, spoons and washboards, woodwinds, barrel organ, and baby grand. Still, I really should be quite on the matter, like, that speechless spider that slid down on his sewing silk thread. They really never saw the dark, haunted side of me. I shielded my family from the knowledge of my hells and demons--my grave memories. But I am at peace with my memories: my failures and my victories have reached mutual appreciation, my sins and my virtues are in communion. Memories! Memories are like old friends and foes, some good, some troublesome. But in time, we learn to live with both. Such is Mississippi for me...(Joy in the Morning, pp. 201-202) READ MORE

Copyright 2012 Joy in the Morning Part One -Robert Scott Jones